Welcome To Siddarth Institute of Engineering & Technology
 We offer the best of venerable atmosphere coupled with the intellectual and technological resources with enthusiastic fortitude to the students. The School of Engineering is uniquely positioned to educate the technological leaders of tomorrow. Our goal is to position our engineering graduates to be problem solvers, project leaders, communicators, and ethical citizens of a global community. Grounded in our commitment to engineering education innovation and interdisciplinary research, we offer our students a rich educational experience, an experience that includes intellectual rigor and student-centered environment. I invite you to become better acquainted with the School of Engineering, where you will discover not only engineering excellence, but also a campus alive with cultural, artistic, and intellectual activity.
 SIETK aims to shape the students as individuals capable of thinking independently, creatively and objectively. The holistic approach in teaching and learning encourages students to indulge in extra-curricular activities to shape them as Leaders of Tomorrow. Placement and Training is the strength of our College. At the end of the course, majority of the students carry home, job offers in reputed Multi-National Companies of their choice . In addition to this we organize seminars, industrial visits, paper contests, group discussions, guest lectures, career guidance etc under its auspices. The campus is characterized by cultural, racial, and gender diversity in the faculty, staff, and student body, supported by practices and programs that embody the ideals of an open and democratic society. Placement and Training is the strength of our College. At the end of the course, majority of the students carry home, job offers in reputed Multi-National Companies of their choice.
ABOUT CHAIRMAN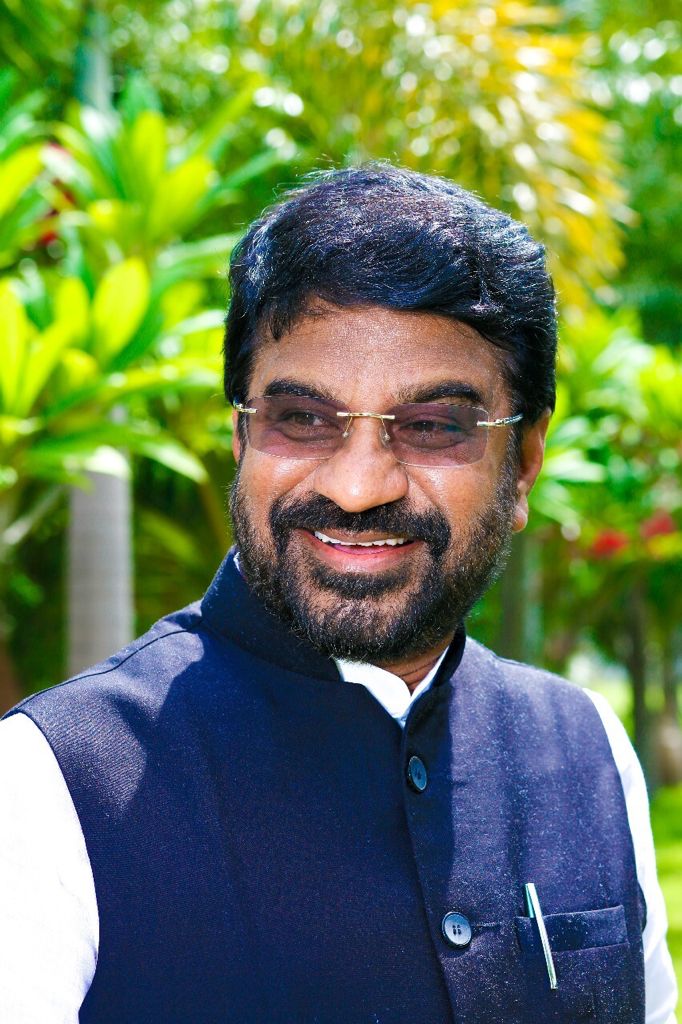 Name : Dr. K. Ashok Raju, M.A., Ph.D.,

Fathers Name : S/o. Late Sri K. Subba Rama Raju
Mother Name : K. Narasamma
Address : Vijayapuram (Village & Mandal)
Date of Birth : 4th January, 1964
Educational Qualifications : M.A (Public Administration) Received Doctorate Degree from Prestigious University of Madras.
Research on Leadership & Personality of Sri N. Chandra Babu Naidu – Mainly discussed about
- Peoples Participation in Public Administration
- Leadership and Personality
- Socio Welfare Measures
- Silent Revolution through 'E' Governance
1984 - Business - Opened Ice Factory
1986 - Started Convents in 3 places
- (i) Gangi Reddy Palli (Kammapalli) near Tirupati
- (ii) Vijayapuram
- (iii) Vengalaraju Kuppam (Palasamudram Mandal)
- Tutorial College for High School students at Vijayapuram
1988 - Late Sri N.T.Rama Rao selected for one year training in National Institute for Political Consciousness (Jaatheeya Raajakeeya Pariznana Parishat).
- All round First in the Institute.
1989 - Appointed by Shri N.T. Rama Rao as a Personal Assistant to the Minister
for Information & Public Relations.
1989 Nov.- Appointed as Election in-charge for West Godawari District.
1990 June - Appointed as Private Secretary to the General Secretary Mr. Chandrababu Naidu.
Also served as Private Secretary to the Chief Minister of Andhra Pradesh Mr. N. Chandra Babu Naidu in between 1995 – 2002. Entered into Real Estate Business
2000 - In the year 2000 started HPCL out let at Srikalahasthi – Tirupathi High Way.
2001 - In the year 2001 started prestigious Engineering College by name Siddharth Institute of Engineering & Technology at Puttur
2002 - In the year 2002 started Junior College at Nagari
2005 - In the year 2005 started MBA & MCA courses at Siddharth Institute of Engineering & Technology.
2008 - At 2008 started another engineering college by name Siddartha Institute of Science and Technology at Puttur
- At 2009 started M.Tech. Courses at Siddharth Institute of Engineering & Technology. 2009 - Completed Ph.D. in the year 2009. Received Doctorate on 19th January, 2010 at Centenary Auditorium at Madras University by the Governor and Chancellor Mr. Surjith Singh Barnala. Running Educational Institutions and running other Businesses.
Chairman's Profile
The Chairman of the Board, Dr. Ashok Raju Konduru, an educationist and philanthropist, spearheaded the Siddharth Group of Engineering Institutions to become emerging centres for excellence in Engineering and Management education in a matter of 15 years. His commitment and determination to make Engineering and Management education available to the rural students around Puttur town reflects in the phenomenal growth of student strength in the last 15 years. His dedication to quality infrastructure and education reflects in the accreditation of three courses (SIETK) by National Board of Accreditations (NBA), New Delhi and achieved NAAC "A" Grade. A strong believer of collaboration and cooperation, Dr. Ashok Raju has played a key role in associating with VIT University and Jawahar Knowledge Center, IEG, Government of A.P. for Training and Placements of the students of his institutions. A recipient of "Educationist of the Year Award – 2008" from the WES, New Delhi, Dr. Ashok Raju aims at preparing the student community to meet Global industry needs and played a vital role in signing an MOU with University of Massachusetts Lowell, USA that enables exchange of students and faculty between the two institutions, joint projects, research, etc. He has played a pivotal role in bringing the chapters of "A.P. State Skill Development Corporation" and "Startup Incubation Center" to the institutions which benefit the students immensely. With his immeasurable achievements and untiring efforts to make a difference in the lives of the students, Dr. Ashok Raju has emerged as an iconic personality among thousands of young engineers as well as education circles in the state of Andhra Pradesh and the neighboring states.
WHAT IS AUTONOMOUS?
A functional status given to the Institutions, by the University Grants Commission (UGC) by giving greater flexibility towards purely academic development for up-liftment of academic standards and excellence.
An Autonomous Institution carries a prestigious image for the students and the faculty members.
Benefits of Autonomous:
It can determine and prescribe its own courses of study and syllabuses, restructure and redesign the courses.
It can use modern educational technics to achieve higher standards and greater creativity.
It can also offer short term courses for the benefit of the students It can also promote healthy practices such as community service, extension activities, projects for the benefit of the society at large It can award the degrees on behalf of the university by providing more academic and operative freedom to function better with credibility.
In Brief, Autonomous reflects:
Efforts for Excellence in academic performances
Capability of self-governance
Enhancement in the quality of education